Appraisal services encompasses the role of an independent business appraiser applying principles required to competently assign a value conclusion. As a member of both the American Institute of CPA's and the American Society of Appraisers, our primary sources of guidance that our practice are the American Institute of Certified Public Accountants' Statement of Standards for Valuation Services (VS Section 100) and The Appraisal Foundation's Uniform Standards of Professional Appraisal Practice (USPAP).
The Appraisal Foundation provides good guidance regarding the role of valuation professional to communicate the level of independence and competence expected for a specific engagement. The following diagram reflects the broader role of valuation services that may or may not include the practice of appraisal. This distinction is clearly communicated between our appraisers and the client prior to each engagement.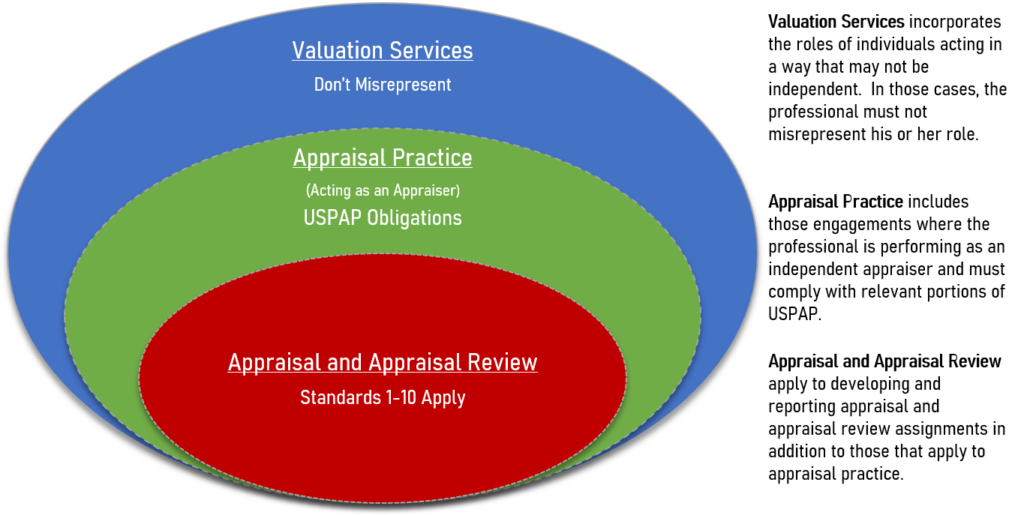 In addition, it needs to be clear what is being valued. The standard of value for a strategic acquisition may not be "fair market value" (FMV), which is the price, expressed in terms of cash equivalents, at which the property or business would change hands between a hypothetical willing and able buyer and a hypothetical and willing seller, acting at arm's length in an open and unrestricted market, when neither is under compulsion to buy or sell and when both have reasonable knowledge of the relevant facts. Also, there would generally be a different value for marketable interest than for a non-marketable interest. In addition, the value would be smaller on a per share basis, for a control basis versus a non-controlling basis.
This diagram helps to illustrate the differences in value at various levels of ownership: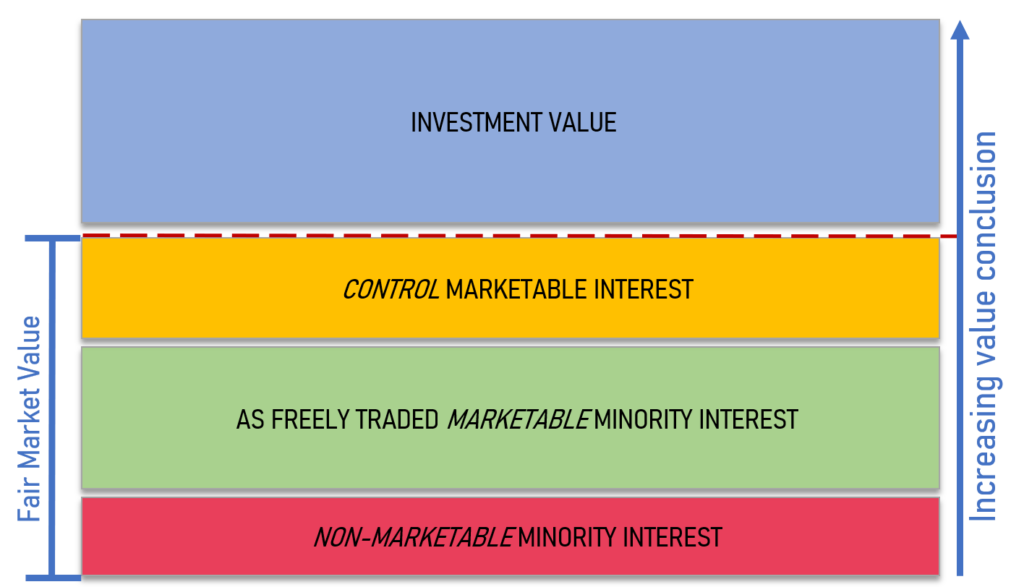 Some business valuation engagements are for specific purposes, such as part of the lending process. For example, the SBA has requirements under it's 7(a) Loan Program that could require the lender to obtain a business valuation from an independent appraiser to value the intangible assets of the business. A flow process based on SBA SOP 50 10 5 (K) effective April 1, 2019.
For illustrative purposes, a link to an example report of business valuation of an acquisition opportunity is attached.